Hi All,
So I'm moving my pool equipment about 40-45 feet from where it is right now (pic attached)... wondering if that's too far of a run for my equipment to work properly?
Also, since I'm moving everything, I can have my contractor configure my equipment on the new pad however I like. Is there an "optimal" setup for what I've got? Also would like to leave room for adding a SWG in the future... but are there any diagrams that I should be looking at now to provide/direct my contractor?
The white pipe that is currently coming out of the ground, with a rag over it, is for a dedicated vacuum line (Kreepy Krauly). That will need to be tied in somehow.
Lastly, I've seen a few threads on this forum about using Spa Flex? I guess that's just flexible schedule 40 PVC... but I've seen mixed reviews on that stuff. Worth using or not?
Thanks for reviewing my thread.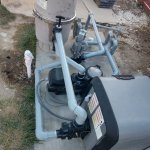 Last edited: