Apr 10, 2018
2,401
Pool Size

18735
Surface

Plaster
Chlorine

Salt Water Generator
SWG Type

CircuPool RJ-45
My father-in-law needs help identifying the model of his leaking pump. Water is seeping from the housing/mounting plate. He has already replaced housing gasket.
I believe it's a Hayward Max Flo. It currently has a replacement single speed 1.95 HP motor.
We want to replace the shaft seal with a heavy duty saltwater kit. Will the
PS-3868 kit
fit this pump? Is there a better kit available?
What other failed parts may cause a leak from the housing/mounting plate area. He's checked the drain plugs and plumbing connections.
Thank you.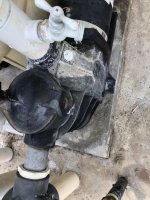 Last edited: