Just signed a contract on a new pool build in middle Georgia. We won't start construction until February - saves us a bit of change building in the off-season, and if we started now, it would be end of season by the time we could use it.
We are building a freeform vinyl liner pool with concrete walls. Sort of a modified kidney. My wife calls it a jellybean. We went back and forth on concrete vs vinyl, but just couldn't justify that extra $10,000.
Details:
17' x 33' freeform pool
3' to 6' deep
Flagstone coping
Light broom finish concrete decking
Poured concrete steps and benches with liner over
2 skimmers
2 main drains
3 returns
Pentair Intellichlor IC-40 Salt System
Pentair SUPERFLO Variable Speed 1.5 HP Pump
Pentair 24" Tagelus Sand Filter
Pentair Intellibrite 5G White LED Pool Light
We will probably choose either a gray or tan liner from pacific pools.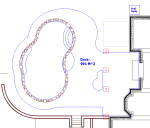 We waffled back and forth on a tanning ledge. If it was concrete, that was a no-brainer. But with vinyl, I was concerned about it fading much quicker, and the possibility of damage. I've read plenty of people saying dogs, kids, chairs, etc would damage ledges, but haven't seen too many actual experiences. In any case, we currently aren't planning on it, but still wonder if we should add it.
Still very undecided on lights. Currently have one Intellibrite white 5G light, but I'm concerned it won't be enough or spread enough. PB has quoted options for adding a second Intellibrite or replacing the existing one with spa lights (I assume Intellibrite 5G spa). We will definitely swim plenty at night.
After the pool build, we are planning on an adjacent fire pit area and outdoor movie theater setup.
Last edited: