I have owned a pool for 6 years. Last year we had a lot of trouble keeping our water clear. At the end of the season I came across your website. I have the T-100 kit and will try and use it along with your pool math app this year!
Pool Info:
25,000 gallons
Vinyl liner
UV sanitizer
DE filter
Opened pool today and this is what it looks like.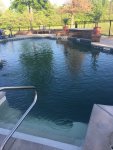 so for starters ....do I test the water or go ahead and SLAM it??
Thanks in Advance for all your help!
Looking forward to a great pool season!
Terri