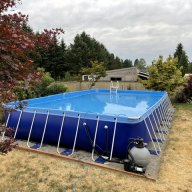 Jul 2, 2021
28
Pool Size

17415
Surface

Vinyl
Hi All,
I have finally tested my water myself and the results are interesting.
Honestly, they are very similar to the pool store results, so that gives me some confidence in my pool store. Actually, before ordering the test kit, I used two stores. Both produced similar results, although once in a while something seemed off. For example, last time I went to the store on Mill Plain, the CYA was 5. I knew that was wrong because CYA is cumulative (from what I understand). So the tech did a drip test and found the CYA was indeed near 50 (as I thought).
I'm going to post the results from my TF-100 test, and the results from my store test (16 hours earlier). There is one very significant difference, and that is with the calcium test, and it's a little weird, because I've gotten around 10-15 store water tests (from two different stores) and the results from this test are always similar.
Anyway, here are the results:
| | |
| --- | --- |
| TF-100 RESULTS | STORE RESULTS |
| FC - 9.5 (I did this twice to make sure) | FC - 6.1 |
| CC - .5 (did it twice!) | CC - .93 |
| PH - 7.2 (used a meter) | PH - 7.3 |
| TA - 100 | TA - 76 (adjusted) 92 (input) |
| CH - 450 (first test) / 525 (second test) | CH - 184 |
| CYA - 45 | CYA - 48 |
First off, a little about my pool store. They never try to sell me any chemicals (I've bought a pool and hot tub from them, so now I'm like Norm--everybody knows my name). The more I read about water chemistry, etc., from this community, the more I see mistakes in their advice, but I don't see why their tests would be off. The machine they're using is well over $1,000 and it seems to me that it should be accurate. Anyway . . .
Now, my thoughts and observations. The FC test is quite different. Not sure why.
The CC test is pretty close.
The PH test is very close.
The TA test is fairly close (the pool store uses an "input" value and an "adjusted" value - the "input" value was 96 so very close to the TF-100 results).
The CH test is wacky. I got 450 on my first test and 525 on my second test. The store results are very consistent over the last couple months. August 17 (184), August 5 (180), August 2 (165), July 26 (174), July 20 (174), July 15 (182). I've used two different stores to get those results. They are always very close and they stores are suggesting I add calcium (but my store says my calcium levels are fine because I have a vinyl pool). But they do say, "If you want to raise the calcium to recommended levels, add about 6lbs of Calcium Hardness Up." How can the CH tests be so very different?
CYA results are nearly identical so that's good.
Thank you all for getting me moving in the right direction with caring for my pool.