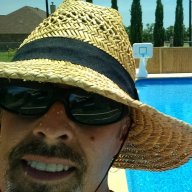 Mod Squad
TFP Expert
LifeTime Supporter
Jun 22, 2014
46,545
Pool Size

17888
Surface

Fiberglass
Chlorine

Salt Water Generator
SWG Type

CircuPool RJ-45 Plus
DISCLAIMER
The following is a dialog of my own personal experience. Any processes used, chemically or otherwise, were performed strictly on my own without any recommendations from Trouble Free Pools.

FUTURE POSTING
I am trying to keep this thread streamlined with just my own progress for all to see. If you are a FG pool owner and have questions about this thread, your pool, or any of the items discussed, please start a new thread and "TAG" me. I'll be happy to join-in on your discussion and contribute to your thread.​
To kick this thread off, here are some photos to help illustrate my situation:
These photos are from Apr 2018, following about a year or more of maintaining a very low CSI, was during an acid test on the top step and illustrates the chalky effects below the waterline:
These photos are from 16 Jun 2018 after much sanding with standard water chemistry.
As with many of you reading this, I was once new to all of this pool stuff and followed blindly the advice of my installer and local pool store (major chain) who tested my water and told me what to do. Soon I had algae, but continued to follow the pool store's advice until almost a year later (Apr '14) when I found TFP. From that moment on I never had an algae bloom again, but my downfall was that for quite a while I focused mainly on algae control (FC/CYA) and gave little regard to the hard water in our area. It wasn't until about 2-3 years later that I started to really focus on CH and my Calcite Saturation Index (CSI) levels. By that time I started to see a lightening of the shell (getting chalky). In addition, I believe I misread some of my own CH/pH water testing which presented a false number/level further contributing to my situation. So from that point forward I've had my focus on scale. Makes sense right? Hard water and elevated CSI? Well, perhaps. But keep reading.
Based on most discussions related to FB shell discoloration (excluding a rare defective factory gelcoat), the focus seems to be on two main possibilities - calcium scale or oxidation. It's important to point out that YOUR situation could vary based on your pool's history. You have to account for months/years of chemistry to really know which condition applies to you.
First let's consider calcium scale. There are 3 prevalent types of calcium I see in most pool discussions: Carbonate, Silicate, and Phosphate.
Calcium Carbonate:
If you are lucky, the calcium scale in your pool may be carbonate. This type of scale can be flaky, rough, and should be easier to remove than the others. Carbonate might react favorably to local scale remover products over time. A low CSI can also prove beneficial to eroding the excess carbonate. Coupled with frequent brushing over time, the scale can slowly thin and fade away. Calcium Carbonate is often verified by pouring some muriatic acid on an area, or collecting some of the scale from the pool (off the SWG for example) and watching for a fizz or bubbling reaction.
Calcium Silicate:
If your scale deposits do not react to acid or a low CSI level for a long period of time, there are some pool sites that claim it may be calcium silicate. Besides presenting a chalky appearance, Calcium silicate is believed to have a bit of a grayish (dull) look to it and will not come off by simply scrubbing it with a brush. The concern I see with this (silicate) assumption however is that from one of our foremost authorities on plaster, "
Calcium silicate is not soluble, and therefore, I don't see how it could be dissolved in pool water, which then precipitates out to deposit on a FB pool or any pool.
" But if someone still believed their scale was Calcium silicate, there are really only two choices – hire a professional pool contractor to remove the deposits mechanically, or begin sanding on your own. Chemical treatments alone, if they even work, would take a very long time.
Calcium Phosphates:
Then there are phosphates. That nasty word we avoid here at TFP when discussing its relationship to promoting algae growth. But there seems to be more discussions (
see HERE
) about this type of calcium that is attributable to excessive high levels of phosphates (or "orthophosphates") in the water. Phosphates can be introduced to water in many ways, to include some metal stain sequestrant products. Extremely high levels of phosphate levels are believed by some to promote this type of scaling process. When these phosphates combine with excess calcium, they form a very durable scale that is also difficult to remove. Some sites state that unlike Calcium carbonate, Calcium Phosphate is not necessarily driven by an elevated pH level and is not very soluble in water so it may try to precipitate quicker and try to bond to something if chemical conditions are suitable. In the end though, it looks like treatment is the same as with silicate - hire a professional pool contractor to remove the deposits mechanically, or begin sanding on your own. Chemical treatments alone, if they even work, would take a very long time.
In my case, I always believed my issue to be calcium scale - either silicate or phosphate. A big reason for this assumption is that I am confident the first couple years I had an elevated CH and pH level which pushed my CSI into the scale danger zone. Unlike some FB owners who said they could see white come off when they swiped their finger along the shell, this material is hard, white/gray, and doesn't change appearance when wet. It reminds me of tarter on a kid's tooth that needs to be scraped off. It's not flaky-rough like carbonate calcium, and requires a LOT of sanding to cut through the build-up. HOWEVER, what did concern me about this theory is that any areas tested did not fizz or bubble when acid was applied. In addition, when I attempted to capture of some the chalky fluid during a filter rinse, my CH test didn't change. And finally, with all the scrubbing I've done, my overall pool CH level never increased. Commonly we find that when someone scrubs scale off the pool walls, their CH level may increase since it has become soluble. So is my issue even scale related?
Now the discussion for oxidation:
I can see one clear example of oxidation in my pool, and it's above the waterline where the sun has beaten the gelcoat, much like an old car hood. When I wet it however, the color gets nice and blue until it dries. Like on a boat, I could probably polish it and make it much better. Below the water line is a different story. The substance covering the gelcoat is much different, thicker and stubborn as I noted above. In cases supporting oxidation, one TFP thread noted the following, "
My local pool dealer said to get my CH above 200 and the chalkiness will go away. He said the low calcium level causes fiberglass pools to oxidize which is what I'm seeing. He was quick with the answer and said he's seen it before."
I was still not convinced this applied to my situation since my calcium has generally been over 200, but I'll keep an open mind and watch for changes. Interestingly enough, this was posted in another scale-related thread: "
My pool manufacturer thinks it's the beginning of scaling. They and my local pool guy said to get the CH up to 300-350. Manufacturer suggested I use a stain/scale treatment called ScaleTec. I couldn't find it locally so I used Aqua Chem scale metal and stain control as directed except added weekly instead of monthly maint. doses and raised CH to 300. After a few weeks of brushing my chalkiness is gone."
What's odd about that scenario is that if it was scale, why increase the CH? That seemed odd to me. Increasing the CH seems to fit the oxidation scenario more than anything. In any case, there are at least 3 FB owners who claimed that by increasing their CH level to at least 300 and using over-the-counter scale removal products (with lots of brushing) the chalkiness went away. At the same time, there are other owners who claim the use of such products did nothing to remove the chalky appearances.
2016 is when I really began trying to reverse what I believed to be a calcium scale issue. I pulled my Total Alkalinity (TA) quite low (40-50) to help maintain a lower pH and CSI. In 2017 I began initial sanding all around my pool. The water would cloud-up considerably, but the walls had a patchy/streaked look about them because I didn't cut all the way through the chalkiness. I was still a bit shy about the gelcoat and wanted to see what would happen. I continued to run my CSI quite low into early 2018. I would keep the CSI anywhere from -0.6 to -1.5 for months in hopes that along with my sanding, it would help. I brushed just about every day as well, and even used steel brushes hoping it would cut through the tough, chalkiness. But after about 18-24 months of that, the results seemed mediocre at best. In some areas, it almost seemed like the chalkiness started to come back. That made my scenario that much more puzzling causing me to question the scale theory.
A pool owner's awakening?​
Today (16 June 2018) something dawned on me as I sanded just about the last portion of the shell I would do by hand. In my mind I kept asking:
- Why didn't the low CSI help over 1-2 years?
- Why didn't the acid test work?
- Why does it seem like after almost a year of my first sanding, some of those areas started to get chalky again?
- If I am seeing something change back to white, there's no way it could be calcium scale since my CSI has been very negative for close to 2 years now.
And then it dawned on me …… OXIDATION. Not for the reasons the pool manufacture try to say, but because during my long-term scale treatment (low CSI) I kept both the CH and TA too low which (
I suspect
) didn't provide enough buffering agent for the low pH. The typical lightening or fading we see above the waterline was different from the acidic water environment below because it was not properly buffered by the TA. For those 1-2 years, I kept my TA very low to help keep my pH quite low as I continued to maintain a very negative CSI - again …. assuming it was scale. Maybe there was "some" scale at one time. But what if now, instead of scale, I'm seeing the effects of a gelcoat reacting to acidic water that doesn't have enough buffering agent in it from TA? It's no longer about the CSI (scale), but more about the proper balance for a FB pool's gelcoat. The Viking manual shows a minimum TA of 125, and the TFP minimum is 70. I was around 40-50 for almost two years! Perhaps this is why some other FB owners experienced an improvement when they increased the CH. Not because they needed more calcium specifically, but because it, along with the available TA, helped to buffer the pH for the gelcoat? After much, much physical work in my pool, and 18-24 months of analysis of my testing records and gelcoat changes, I'm leaning more towards the oxidation theory. As such, I've increased my TA back to the TFP recommended zone of about 80-90 while simultaneously watching my pH and CSI to stay slightly negative. I will always work to prevent scale, but now suspect my current problem is oxidation from maintaining both a low TA and CH for too long.
Lessons Learned
- Even as a TFP member for some 4 years now, it's easy to get side-tracked. In my case it was all about scale. So unless you have an immediate, short-term issue to change your levels, stay within the TFP Recommended Levels.
- Do FB pools need calcium? …… from an etching perspective - no. Not today's FB pools. However, while we can assume FB pools need no calcium because they were not made with plaster products, the CH and TA do play a vital role in keeping the pH and overall corrosive nature of water at-bay and from becoming too strong for the gelcoat. Hence the minimum levels. For FB pools, it's not all about scale. I missed that point.
- In the first couple years of my pool, I allowed my pH to stay on higher end of scale. For some reason I feared the thought of "acidic" water. Ironic now right? This fear contributed to an elevated CSI, but I wasn't smart on that subject at the time. In hindsight, with our local hard water, a slightly more acidic environment is exactly what my pool needed.
- I had a hard time early-on differentiating between the final end-point (color) of the CH test. When it began to change from a light purple, I stopped too soon and didn't allow the reagent to completely change to baby blue. For quite some time, I cheated myself on the CH test by thinking it was 75-100 ppm lower than it actually was.
- Pool companies and manufactures have one goal – operate a business to make a profit. Once you buy it, it's done. Don't expect them to bend-over backwards for you. At that point you're just a liability and impeding their business. Almost all of them require "pool store" testing records that basically follow the antiquated industry recommendations of the American Pool and Spa Association (APSP). If you don't have validated testing results from a place they recognize from day 1, your warranty is no longer valid.
- Two of us in this forum received the EXACT SAME response letter from a well-known manufacturer's warranty department, claiming our conditions were caused by the same exact issue(s). Not only that, but in the letter it states that, "
The discoloration is caused by corrosive water (typically high in pH and chlorine) and in most cases, but not all cases, the pool is equipped with a salt chlorine generator.
" So then I asked, how can a high pH contribute to a corrosive environment? I now believe their response was incorrect. The water may have been too corrosive, but not because of a high pH or chlorine, but because of a low pH (acidic water) and not enough TA and/or CH to compensate and buffer/protect the gelcoat.
- Brushing. I know for the first few years I really didn't brush consistently - hardly at all in fact. Fiberglass was always boasted as "so easy to care for" (low maintenance) that I didn't see a need to brush much. Not sure if that had any impact on the material's ability to adhere to the gelcoat, but I brush on a routine basis now just in case.
What worked (or didn't work) for me?
- The low CSI didn't seem to make much visible difference over a couple years. From 2016 to 2018, it might have helped slightly. Sunlight and the angle of the sun make it tough to tell at times. But if my issue turns-out to be oxidation like I think, the CSI was irrelevant.
- At the end of 2017/early 2018, several bottles of ScaleTec didn't seem to make a difference. It is possible however that those products, combined with the lower CSI, helped to make my sanding slightly easier. I say "slightly" because it was still extremely slow and exhausting, but in some areas there's a significant amount of dust removed with each stroke of sanding. But again, if my issue turns-out to be oxidation, the CSI is irrelevant. See a pattern?
- Sanding definitely provided the quickest and most rewarding visible results. While my installers had me test areas with 600 wet/dry, I soon learned that I needed paper stronger to cut though the material covering the gelcoat. For me, I found that 120 grit wet/dry worked the best. One sheet helped me cut though about 5 square feet before it got clogged or too smooth. I found that sanding by hand was best. Sanding blocks didn't seem to cover the surface uniformly or adequately, so I wore gloves suitable for water to protect my skin as I sanded which also gave me a better "feel" for the slight contours of the shell.
My Timeline​
May 2013 – Pool installed; almost immediately struggled with algae (pool store advice, go figure)
Apr 2014 – Joined TFP; focus primarily on clear water, which it was from that point forward
Early 2015 – Started to observe a change (lighter) in the color of the shell; I'm sure my CH and pH levels got a bit elevated those first two years. Initially began to suspect scale.
Sep 2015 - This is when I started keeping my TA around 50. I may have good reason to lower the CSI, but I fear the TA was too low for too long - the possible beginnings of oxidation.
2016 – Shell becoming lighter, more apparent; CSI still low with no changes.
2017 – Began initial (light) sanding; still maintaining a low CSI (very acidic); no obvious changes
Dec 2017 – My installer recommended using 2 bottles of ScaleTec each month for a few months before submitting warranty request; assuming the chalkiness was scale; no visible change
Apr 2018 – Contacted by Latham Pool (representing Viking); conducted scale (acid bubbling) test w/ negative results; they pointed towards corrosive water or oxidation
May 2018 – Began aggressive sanding to recover the original Maya Blue; going everywhere I could reach comfortably by hand.
Jun 2018 – More sanding; LOTS of daily brushing (2-3 times per day); also tried more use of chemicals such as ScaleTec Plus, Natural Chemistry's Scale Free, Jack's Magic (Magenta), and Trade Strength phosphate remover (in case it was phosphate scale).
16 Jun 2018 - The day I realized that my primary battle may not be scale any longer, but could be oxidation. Increased TA back to about 80-90 while maintaining a slightly negative CSI for scale control.
Future plans​
- Continue to maintain CSI on the slightly low/negative side (-0.1 to -0.3).
- Increase and maintain my TA at about 80-90.
- About done with sanding by hand. The rest will remain as-is while I monitor any changes between the chalky area and what I have reclaimed back to blue. This should help me confirm if it's calcium related or oxidation and/or if my changes are working.
- I'm not sure if chemistry works this way, but I'm hoping (if any of it is still scale) that the more chalkiness I remove by hand, the better the effects of any chemical treatments or slightly negative CSI will have on the remaining material. Wishful thinking perhaps, but we'll see.
- I'm very pleased with my sanding results so far. With the exception of the floor and deeper side areas, much of the pool's original color is back which helps to present a darker pool all-round.
- I might experiment with various Scale Free products in hopes that it will help thin any remaining calcium scale along - if that's what it is along the lower walls and floor.
- I sometimes supplement refills with my water softener to help slow the CH's rate of increase. Although in terms of the oxidation theory and success some FB owners had with a higher CH level, I may keep mine between 250- 300 (currently at 250) to see what that does.
I will post periodic updates and pics to this thread to keep all my fellow FB pool owners informed. Remember, your pool condition could be based on either scale or oxidation. It's important you consider the pool's chemical history (if available) for the past several years to really know for sure.
Last edited: