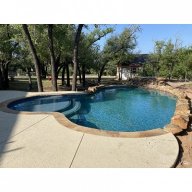 Jun 8, 2020
534
Pool Size

14060
Surface

Plaster
Chlorine

Salt Water Generator
SWG Type

Pentair Intellichlor IC-40
We're using moss rock and flagstone for coping/waterfall, and would like to seal the stone prior to plaster being applied. I've searched the forum for recommendations, and am finding a lot of opinions, but not much in terms of experience.

Ideally, I'd find a sealer which is salt water friendly, enhances the color of the stone, but doesn't make it any more slippery that it already is.

Maybe this is a tall order? Since I can't seem to find a solid choice for this.

I did find some reviews on "Stonetech Enhancer Pro", but some of them report a white film appearing after a period of time, which has been impossible to remove. I definitely don't want to risk something like that happening.

So looking for folks who have sealed natural stone around their salt pool, what you used, and how it's been holding up over time.