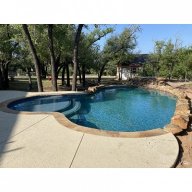 Jun 8, 2020
534
Pool Size

14060
Surface

Plaster
Chlorine

Salt Water Generator
SWG Type

Pentair Intellichlor IC-40
Last week I installed a AquaCal heatpump, and have been playing around with optimal pump speeds to heat the pool, and maintain the temp. I have it dialed in pretty well, but there's one piece which I'd like to behave different, and not sure if it's possible.
My standard pump schedule is to run 1200 RPM 24x7 (Pool circuit), and then I have two schedules which kick the pump up to 2500 RPM 2x a day, for one hour each time, for improved surface skimming (Feature 2). It does this from 8am - 9am, then again at 7pm - 8pm. I also have my waterfall set on a schedule to operate from 7:30pm - 8pm; just to cycle the water in those pipes and in the waterfall basin.
When I installed the heat pump, I wanted to set a 40 GPM minimum speed when the heater is running, so I configured the Pool Heater circuit as such. I do not have the AquaCal connected to the EasyTouch yet, so I just set the same temperature set point on both the EasyTouch and AquaCal for now; and both track the same temp very accurately.
This config works really well, except for one point.
The pump runs at 1200 RPM 24x7, and when the water temp drops below the set point, the heater engages and the EasyTouch commands the pump to jump to 40 GPM. But ... when the ET schedule calls for High Speed on schedule (Feature 2), the pump remains at 40 GPM and does not jump to 2500 RPM.
I *thought* the pump would jump to the highest speed being commanded, as it does when multiple circuits are active; but it seems the Pool Heater circuit overrides all pump speed commands, and takes priority.
So if the heater is running during the 7-8pm hour, then I don't get the improved skimming from the 2500 RPM speed, and when the waterfall turns on at 7:30pm, the flow is very low as it's still at the 40 GPM speed.
I'm not sure if there's a way to program around this, but thought it worth asking.
************ As I was proof reading this post before hitting "POST THREAD", I had an idea, and tested it ... seems to have fixed it. I thought I'd post it anyway, in case anyone has the same question int he future ... as when I searched, I did not find anything about this *************
Looking at my pump speeds, I noticed they're all set to RPM, except the heater is set to GPM. I wondered if the EasyTouch isn't smart enough to rank both RPM and GPM for priority .. and, I was right.
I went and checked the RPM of the 40 GPM setting, and it was running at 2060 RPM. So I changed the "Pool Heater" circuit from GPM, to RPM, and set it to 2060, and now the 2500 RPM Pool High circuit does take priority over the Pool Heater circuit, when they are both active