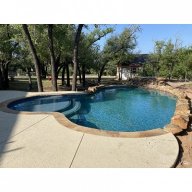 Jun 8, 2020
442
Pool Size

14060
Surface

Plaster
Chlorine

Salt Water Generator
SWG Type

Pentair Intellichlor IC-40
Anyone ever come across this issue, where the Easytouch system (PS4 in my case) intermittently turns the Spa-Side feature off by itself?
I have a DIY circuit designed with optocouplers connected to the is4 terminals, with a wireless receiver momentarily triggering the is4 ground terminal to one of the is4 control terminals when a signal is received. When I initially turn on the Spa-Side Remote feature, it all works perfectly. But after some random period of time (sometimes several hours, sometimes just a few minutes), it stops working due to the Spa-Side Remote option switching Off in the Easytouch menu. If I turn the feature back on at the ET panel, everything is fine again until it turns itself back off.
Here's a rough diagram of the circuit
It's a pretty simple design. I used optocouplers to keep the is4 terminals isolated from the ESP32 controller's power circuit. All 4 channels work as expected when the Spa-Side remote function is turned on, I just can't seem to keep it from switching itself off after a period of time.