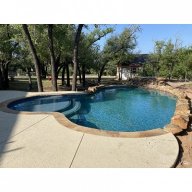 Jun 8, 2020
442
Pool Size

14060
Surface

Plaster
Chlorine

Salt Water Generator
SWG Type

Pentair Intellichlor IC-40
I added 14lbs of calcium chloride today, to bring my CH up to 350. I haven't added any salt, and have only used about 2.5 gallons of liquid chlorine so far.

My fill water tested below 200ppm of salt

But after adding the calcium chloride, I ran another k-1766 test, and it shows 600ppm now. So I'm assuming the Cl in the CaCl is registering on the Taylor test.

if that's true, then when I add salt and enable my IC40 at the end of this month, after my plaster has finished curing, do I target my salt based on the reading of the Taylor test, or do I subtract the 500/600 amount I'm getting from the CaCl I just added?