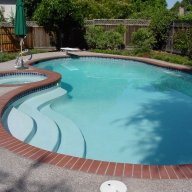 TFP Expert
LifeTime Supporter
Someone in another thread had asked about how I built my own solar cover roller. So here it is.
Initially, I had purchased a
SolarRoller
and it worked pretty well for about three years after which the aluminum pipe corroded through. So I looked at several alternatives and came up with the following:
The design is based on a
1 1/2" ABS DWV pipe
which because it is foam core floats unlike PVC or the original aluminum which tended to make the center of the cover sink. I used 10' pipe with a coupler but it would be better to use a continuous piece of pipe if you can find it that long.
To attach the cover to the pipe I used a faster with a 2" long 1/4 piece of the pipe in a clamp configuration (see pictures). I used the fasteners that came with the original solar roller but you could also use automotive panel fasteners with a hole drilled through the clamp and the pipe.
To roll up the cover, I reach under the cover for the pipe and just twist the pipe and the cover rolls up on itself. To unroll, I partially unroll the cover on the deck before pushing it all the way in and then simply unroll or pull on the ends of the cover to unwrap it.
Here are the pictures of the parts
Cover clamp and fastner
Cover Rolled Up
Cover Unrolled
Pipe Close Up