And, so begins the build of my automation system. Intended features:
Valve control for intake, returns, sweep, and solar.
Pump control of the 4 programmable speed presets.
Solar temperature controller
Heater control and temperature modulation.
Mobile friendly web-enabled control w/manual overrides (ala, kick on spa for 45 minutes at 100˚).
Salt-water generator run-time control through FC sample data input.
PH control via acid pump controlled through PH sample data input.
Water chemistry history record and at-a-glance problem identification.
Filter pressure monitoring to identify back-flushing time.
Lighting control
This will be based off a Raspberry PI (happens to be an older Rev 2 version). It has plenty of GPIO handle this. Best of all, it can easily be a web-server, run a database back-end, and can be programmed through just about whatever programming language you want. This will be a mix of PHP for the web-interface, python for the guts of the logical control. Sample history, temperature data, and run states will be stored in mysql database.
I know I'm not the first to do this. But, I haven't seen a DIY job that ties all this together in an moderately easy to use open source package (am I missing it?). I will share full code and want to streamline the setup for any others that want to duplicate this.
Let's get started. A quick floor plan layout of the hardware in the enclosure.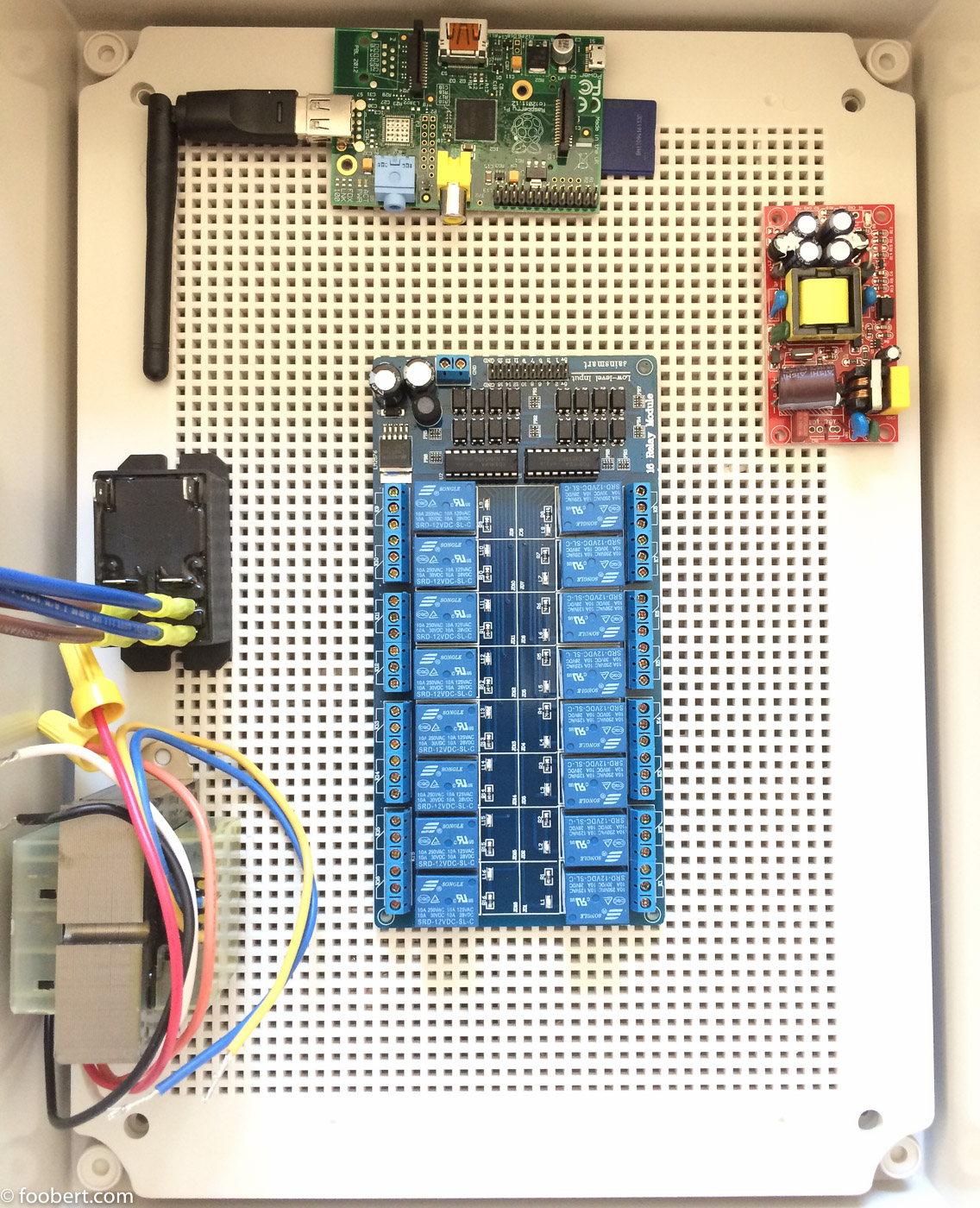 The major parts list:
Excluding the valve actuators, the hardware for this is quite simple and cheep.
I'm choosing not to automate the sensing (ala, ORP + PH). It's certainly technically feasible, but, seems more trouble than it's worth from a cost/benefit/maintenance standpoint.
This will be a phased approach. First part is basic pump control, chlorination, valves, and heater. Second phase will be the web-UI. Pressure monitoring will happen later. Solar control once I have solar panels installed to bother with. Acid injection when I get tired of pouring acid in