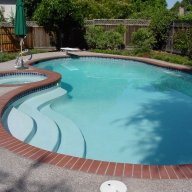 TFP Expert
LifeTime Supporter
May 3, 2007
15,394
Pool Size

20000
Surface

Plaster
Chlorine

Salt Water Generator
Many years ago, I did a test of chlorine loss vs CYA level and published the results here:
I thought I would give those who are interested an update on some testing that I have been doing regarding CYA levels and chlorine. First a summary of the testing that I did in this thread. - Running my spa with the SWG at CYA levels from 45-80 ppm showed no change in chlorine production. -...
www.troublefreepool.com
There were a few issues with the test that I wanted to resolve with some additional testing but never got around to doing it...until now.
This time around, I wanted to use distilled water for dilution to avoid adding anything into the water that might affect the results. Also, for this round, I wanted to use shallow containers (wine tumblers) to determine if the depth of the solution had any impact to the benefits of higher CYA. Also, it wasn't practical to get that much distilled water for buckets so I kept the experiment small.
I started with my own pool water which was at FC level 7.2 ppm with a CYA of 80 ppm. All FC tests were performed using FAS/DPD. One glass had no dilution so had a FC/CYA of 7.2/80. The second glass was diluted 1:1 or FC/CYA of 3.6/40. The third glass was diluted 1:3 or FC/CYA of 1.8/20. Note that FC/CYA ratio is kept constant for all three because of the dilution method. Left in the sun for 2 hours, here are the results:
1:0 FC/CYA 7.2/80 --> FC/CYA 6.8/80 - 0.4 ppm FC Loss
1:1 FC/CYA 3.6/40 --> FC/CYA 2.6/40 - 1.0 ppm FC Loss
1:3 FC/CYA 1.8/20 --> FC/CYA 0.4/20 - 1.4 ppm FC Loss
So as in previous experiments, FC loss decreases with increasing CYA levels although with this test, the benefits seemed to be much greater. This is probably due to the depth of the water as it offers less FC protection due to lower scattering and absorption. The deeper the water, the more UV protection provided by the water so the benefits of CYA are diminished for deeper water.
This is a pretty easy test to perform so I would encourage anyone else to repeat these tests for corroboration.