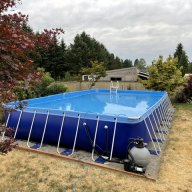 Jul 2, 2021
28
Pool Size

17415
Surface

Vinyl
Hi All,

My pool is 17,415 gallons. 11 days ago my CYA was 42. Today I tested (at the store; I'm ordering my own test kit today) and it was 54. I've done a backwash, added water AND only added two Trichlor tablets in those 11 days.

Can two Trichlor pucks add that much CYA in 11 days? Seems improbable.

The only thing I did differently this time was I filled the water tester bottle a couple feet down instead of using surface water. Could that make a difference?

Here is a link to my Pool Math logs.