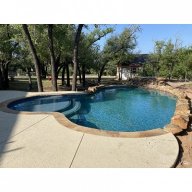 Jun 8, 2020
442
Pool Size

14060
Surface

Plaster
Chlorine

Salt Water Generator
SWG Type

Pentair Intellichlor IC-40
When we initially installed the ScreenLogic setup, I used my phone to connect to it remotely (ie: I shut my phone's WiFi off, and connected over the WWW VIA the cell network), and it worked fine to connect and run through initial config and also to control the pump, lights, etc ...
Since then, I've been connecting locally (while on my home's WiFi) and all has been fine.
Well, today ... while at church ... my wife made a comment "I'd really like to swim today, I wonder what the water temp is?" ... so I thought, -I can answer that
Just log into ScreenLogic ... but when I tried, I get "ERROR: Cannot connect"
I've tried several times, and it hangs on "Requesting gateway connection " for a minute or so, then displays the error. Prior to hanging on "Requesting gateway connection", I can see other messages flashing, but it's too fast to be able to read them.
I've already tried unplugging and replugging the power to the protocol adapter, and it hasn't worked. I have a static IP address assigned to it in my router as well.
I realize the protocol adapter phones home to Pentair, and reports the public IP of my router, and then uses this to allow remote connection. I'm not sure if my ISP has changed my public IP between the time we set this up until today, but even if they did, I would think resetting the protocol adapter would cause it to phone home again and update the IP address.
Anyone have any ideas? Considering I was able to connect on day 1, I don't think this is a firewall or router config issue; but am open to suggestions.