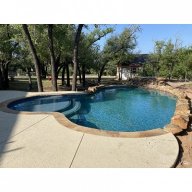 Jun 8, 2020
442
Pool Size

14060
Surface

Plaster
Chlorine

Salt Water Generator
SWG Type

Pentair Intellichlor IC-40
As my pool build continues along, I'm thinking ahead to the landscaping lights I want to DIY install. I will be placing PVC chases into the decking, so I will have wires run to the locations, and would like to have the landscaping lights integrated into our EasyTouch system for control, and also be able to control the color of the landscaping lights independently of the pool lights.
We will have three Pentair GloBrites in the pool, wired up to the EasyTouch 4 controller. I've no issue converting the ET4 into an ET8 (VIA the resistor method) if needed, but am unsure as to what landscaping lighting systems would be compatible.
I understand any system could be wired into a breaker and relay on the ET, for simple "on/off" control, but do not understand what systems would also allow color control from ScreenLogic.
I saw a previous reply from
@jimmythegreek
where he mentioned the colors are controlled by pulsing a relay .... is it the relay feeding the 120v power into the landscaping transformer, or is it some low voltage control signal relay which controls the colors?
Seeing the Pentair landscaping lights have assignable addresses, I wonder if they are just using some form for DMX lighting control?