To catch up to my situation, I bought a house with an inground pool, having never owned one before. When this spring came around, I pulled off the cover to a nice green swamp. After shocking first with hypo-cal and then Bleach once I found this forum and learned the gospel, the algae seems to be gone. What is left however, is a nice beautiful blue pool, that is so cloudy you cant see anything more then 4 feet down. Here are some pics.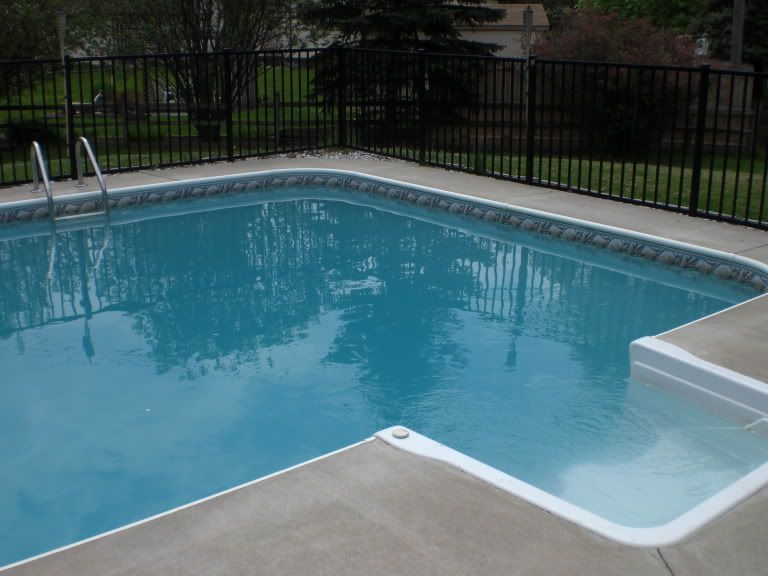 So now I need to know where to go from here. These are my numbers as of today. Keep in mind this is using a crappy wal-mart hth test kit, my TF-100 is still on its way.
FC: ~5 (this is after shocking it to somewhere above 10 last night with bleach, my kit only goes up to 10 but calculator wise it should have been about 14)
CC: ~5
Alk: 85
PH:7.2
CYA: first test at the pool store showed 23. Second test, 0. Horay for accuracy. My test kit shows <30, can still clearly see the dot with a full tube.
Now last night, my FC was above 10 after shocking, and my PH was about 7.2. I bumped it up to 7.5 with borax before going to bed. This morning it is back down to 7.2, I am guessing from the Trichlor pucks.
I have a chlorine feeder full of tri-chlor pucks on full blast. I know I can't use these forever, but with my CYA almost nil I will use them until that comes up.
So now the questions, where do I go from here? How do I clear up the cloudyness? the Cartridge Filter is running 24/7, and I just cleaned it out again last night. I read here that if you are losing more then .5 FC overnight, then you are likely still oxidizing particles. Is that true at shock levels though? or is that only true if you go from say 4 down to 3.5 overnight. Don't shock levels of FC dissipate pretty quickly anyways, so you can go swimming again?
Should I continue monitoring it at maintenance levels of FC (around 3-5 or so) until the pool clears, or should I keep shocking? Should I be doing anything else? I should probably bring my Alk up right? I have stabilizer to dump in, but I have been cleaning my filter out so much I am reluctant to do that for fear I will have to clean it again in the next week. What levels of Alk and CYA should I be shooting for?
I will continue to vacuum and brush regularly, and clean out the filter anytime its pressure jumps.
Thanks guys