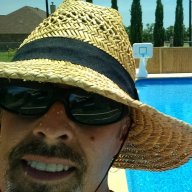 Mod Squad
TFP Expert
LifeTime Supporter
Jun 22, 2014
41,577
Pool Size

17888
Surface

Fiberglass
Chlorine

Salt Water Generator
SWG Type

CircuPool RJ-45 Plus
Fellow RJ-45 owners, I am curious to know what type of FC production you are seeing with your SWG - specifically an overnight
GAIN
test. For my pool, just under 18K, the
PoolMath
APP shows that my cell should provide ~3.9 ppm of chlorine in 7 hours at 100% output. I have conducted four overnight gain tests and I am not seeing that much production in 7 hrs. To maximize overnight gain potential, I cleaned my cell twice, water is crystal clear, and I passed two OCLTs. Never an error on the module. Still, the most I've gained in 7 hrs is 2.5 ppm, so I'm on the fence of whether to pursue a warranty claim. The reason I started this overnight gain testing to begin with is because some of my daytime FC tests seemed to be falling a bit, so I wanted to take the sun out of the equation.
I understand several variables can influence this overnight gain result such as FC testing, an acceptable OCLT loss of 1 ppm, programmed estimates of the
PoolMath
APP, and the cell itself, but I wonder if my overnight FC gains are typical of fellow RJ-45 owners. So if any of you have done am overnight gain test recently, or are curious about the performance of your own SWG and wish to share those results here, feel free. Below is a snapshot of my test.
UNIT: RJ-45+
AGE: 27 months
HOURS (Nighttime) TESTED: 7
OUTPUT SETTING: 100%
PROJECTED FC OUTPUT (per Poolmath) - 3.9 ppm
ACTUAL FC OUTPUT: 2.5