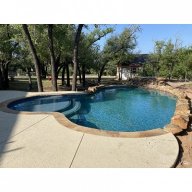 Jun 8, 2020
494
Pool Size

14060
Surface

Plaster
Chlorine

Salt Water Generator
SWG Type

Pentair Intellichlor IC-40
We are considering adding a heat pump to our pool (no spa, just a pool) and could use some input on deciding which model to go with. I am thinking a unit which can do both heating and cooling would be good, since we are in central Texas, and the water will reach into the mid 90's during the summer. So I figured if I'm installing a new heat pump, why not have the option to cool the water as well?
I'm going with a heat pump because we don't have natural gas where I live, and I don't want to install a propane tank on the property.
I initially thought the
Pentair UltraTemp 140k Heat and Cool unit (460958)
would be a good choice; especially since I have all Pentair equipment, and it can connect to the EasyTouch's communicating terminals. As the name implies, it's output is 140k BTUs for heat, and 71k BTU in cooling mode. It uses a scroll compressor, so while not variable speed inverter driven, should be pretty efficient and fairly quiet.
Then I came across the
AquaCal SQ150VS
unit, which uses a variable speed compressor (inverter drive maybe?), and from my HVAC knowledge, I know this can be a ot more efficient, run quieter, and save quite a bit of operating cost. Although this one seems to only output 115k BTU at max speed. I can't seem to find the cooling BTUs anywhere in their literature though.
When comparing 140k to 115k BTUs, using
this calculator
, there seems to be about a 2 hour difference heating the pool 10*F; when plugging 70*F to 80*F into the calculator for 14k gallons. It'll take roughly 8 hours at 140k and take 10 hours at 115k ... So maybe this isn't such a big deal.
I'm not quite sure what features I should be looking for when doing my research. Here are some things I'm thinking about, but could use some input. Heatpumps are not new for me, but applying them to a pool is.
Should I be looking for one with a titanium heat exchanger, due to my pool being saltwater?
Does ScreenLogic have the ability to control both heating and cooling if I go with Pentair; or is there no mechanism to set a cooling temperature within the EasyTouch system, and it'll only control heat? If so, this means I would use the heat pump's set points, and therefore there's no benefit to going with Pentair over another brand.
Do I need to consider the minimum flow required to operate the heat pump? I run my pump 24x7 at 1200 RPM, which is enough to activate the IC40. Then I kick it up to 2500RPM 2x/day for one hour each time (for improved skimming). 1200 RPM pushes about 24 GPM. The Pentair unit seems to switch on at 1.5 PSI, but is adjustable. The AquaCal unit seems to kick on at 30 GPM. Based on those numbers, it seems the Pentair unit would engage at my 1200 RPM speed, but the AquaCal wouldn't.
Since this is a new install, I can plumb it whatever way is best. Should I put a bypass in, where the water is not passing through the exchanger when the heater is not running, or is it best to have some flow through it even when not heating or cooling? I have extra valve actuators for the EasyTouch system, so it shouldn't be a problem to automate the bypass.
Thanks for any input, it's greatly appreciated!
Oh, and maybe having a heater during this freak winter storm week we just had, would have alleviated a lot of stress on keeping the water moving and not-frozen?