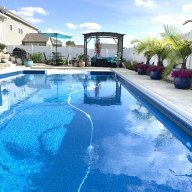 Jul 18, 2013
490
Pool Size

20000
Surface

Vinyl
Chlorine

Salt Water Generator
SWG Type

Jandy Truclear / Ei
Helping a friend with her pool. She started her 2nd SLAM yesterday, she said previous one cleared June 20. Anyway, she overdosed her water with chlorine yesterday.
FC 43
CYA 50
PH was 7.8 before SLAM
She has a fiberglass pool and an IC20 salt cell. Not sure if she has a heater, probably does as it's a new build in Indiana. Anyway, will this high of chlorine damage anything or is it ok to let it naturally drop exposing it to sun and rain?