I have a 30k gallon plaster pool. Over the winter, pump started leaking on the bottom of the casing so I turned it off. Time got away from me and now I have a green mess.
I am 4 days into SLAM and it is clearing -BUT- I found lots of leaves still in the bottom and walls are stained. Actually, we have owned the home for 8 years and the 30 year old pool has always had stains.
I would like to drain the pool, remove all the debris, power wash to remove staining and refill.
I'm in Austin, Texas. How long can I leave it drained to work on it? I'd like to drain it now (Tuesday) but I can't get to the working inside of it until Saturday. Plus, if I need other repairs, it may take week or two to line up professionals.
Can I safely power wash the pool? Low power? Is there any chemical or spray treatment I can use to reduce the staining?
I don't want to spend the money on replastering yet so I'm looking for DIY solutions here.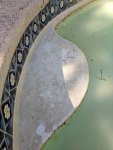 This shows the staining on the step and around the edge where you can see the plaster.
This is a close up of the staining on the step.
Last edited: