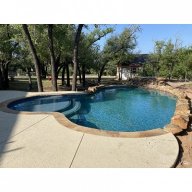 Jun 8, 2020
493
Pool Size

14060
Surface

Plaster
Chlorine

Salt Water Generator
SWG Type

Pentair Intellichlor IC-40
Our pool was completed in August, and I immediately noticed two issues with the plaster.
Two rust spots showed up

The two rust spots are easily cleared with a vitamin C tab, so it appeared to me there was some contaminate in the plaster itself.

Several white'ish spots in the deepend

These appear to be marks made by the spiked shoes of the workers, and then filled with plaster during the acid wash day (ie: day after plaster was installed).
I contacted the builder immediately, and they have just now set a time to come out and deal with it. They called me and said the plaster company is going to come out on Saturday, drain the pool, and acid wash it. I said ... "no thanks", and asked why they couldn't deal with it without draining. They said the water is too cold for their diver ... so I advised they wait until spring or early summer then.
Apparently they are having lots of the rust spot issues with their customers who had this plaster company do their pool during this time. The builder rep told me the plaster company had a batch of plaster which became contaminated with iron particles, and they simply pick out the particles and don't worry about filling in the space which was picked out.
For the white'ish spots, they want to acid wash.
So I said we'll wait until the water warms up for them to pick out the iron particles, and we can discuss the white spots at that time. I asked if the plaster company could use a long PVC pipe, to direct MA onto the white spots without draining the pool. She said she isn't sure, and it would be a question for the plaster company.
In the meantime, I'm dropping vitamin C tabs onto the rust spots as needed, to keep them away.
Any advice on dealing with this? I realize draining and refilling isn't that big of a deal, but my water is very stable and balanced to TFP specs right now, so I really don't want to drain if it's not absolutely necessary... and besides that, I really don't want them acid washing the whole pool for this. It seems to me that may be their default response to any surface complaints (drain, acid wash, and refill).
Here's a couple pictures of the white spots. The water reflection makes it hard to capture it on camera, but it's very apparent to the naked eye.
And here's a video I made to show the builder the iron spots: