Hello TFP, this is my first post on this site! Let me know if there is anything I'm leaving out, or if this isn't the right place for a post like this.
I was wondering if anyone can explain what the air relief tube does in my Hayward S200 sand filter?
The reason I ask is because I just changed the sand in my filter over the weekend, and found out that the existing tube was broken near the bottom, and a pit was being formed in the sand right above where the break was, as you can see in this photo.
I have a feeling that this was causing an issue with the filtering capability of my pool, but I don't know the purpose of the air relief tube, so I am not sure exactly this might have been affecting it.
Once I got all the sand out of the filter with a shop-vac, I inspected the laterals and everything looked okay except for the air relief tube, which I was able to replace with parts from Lowes.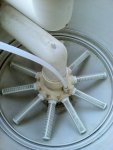 The reason I changed the sand in the first place was because my pool has been cloudy for the past 3 weeks, even though it looks really blue and my levels are all in range (PH 7.3, CL kept around 5, TA 100).
I think I'm on the right track now though, I'm checking levels every day and adding chlorine with 8.25% Clorox when needed. I've been brushing the whole pool every day for a couple weeks now. Since I changed the sand on Sunday it has cleared up just enough to make out the pattern on the bottom of the pool in the shallow end. I think by the end of the week if it isn't really noticeably clearing up I might try adding DE again like I did before changing the sand, but I'm optimistic that I won't have to with how it is going so far.