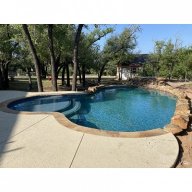 Jun 8, 2020
493
Pool Size

14060
Surface

Plaster
Chlorine

Salt Water Generator
SWG Type

Pentair Intellichlor IC-40
My pool is now 4 weeks filled, so I am planning to add salt and enable the IC40 this weekend. I am considering adding 50ppm Borates (using Boric Acid) for the added protection of the SWG cells, but also for the benefits of pH buffering and the aesthetic benefit of the water sparkle due to lower surface tension.

In researching this, I've been playing around with PoolMath, to see the impacts it will have on my routine maintenance. At this stage, my MA demand has really fallen when compared to the 1st couple of weeks. I assume this is due to the Pebblesheen plaster curing, but also due to my levels.

I'm now targeting 7.8 pH, and my TA has been slowly coming down with each MA addition. TA started at 160, and has been holding at 80 for about 2 weeks, but it just dropped to 70 with yesterday's MA addition. I assume the TA has been dropping a bit with each MA addition, but the test resolution of 10ppm prevents me from being able to see that. So as I continue to add MA to keep pH at 7.8, the TA will continue to drop, although more slowly, and eventually settle somewhere, hopefully above 50.

A thought I had on the Borates acting as an addition pH buffer is that if my TA continues to drop slowly over time, as I add MA to keep pH at 7.8, the Borates will help protect against a pH crash (if my TA get's down to 50 or less that is). Although maybe it won't, I'm not sure ....

So in thinking this through, one impact I'm noticing in PoolMath is the amount of MA needed to affect a pH change. With a TA of 70, and zero Borates ... I need 4.7oz of MA to lower my 14k pool's pH from 8.0 to 7.8. But with 50ppm of Borates, it requires 28oz of MA to lower the pH from 8.0 to 7.8. So 5.9x more MA for the same change.

I get this is because the Borates act as a pH buffer, so it takes more MA to result in the same change. My question has to do with the following:

If today, with zero Borates, by pool's pH rises from pH 7.8 to 8.0 over 1 week's time, and it then requires 4.7oz of MA to lower it back to 7.8 .... can I assume after adding 50ppm Borates, the same rise (with all else being equal) from 7.8 to 8.0 would now take about 6 weeks (28 / 4.7 = 5.9)? So my acid consumption doesn't really change, but instead of adding 4.7oz of MA once a week, over 6 weeks (~28oz total after 6 weeks) ... I would then do a one-time addition of 28oz of MA every 6 weeks?