Hey Guys,
I'm planning to install the booster pump this weekend. I need yall help on how to proceed with the plumbing.
1. Do I need to redo the piping OR I can cut maybe few inches off and insert the 2 inch T fitting?
2. Is this the correct stuffs to glue the PVC piping for swimming pool? These are Oatey Purple Primer(30756) + Rain-R-Shine PVC Cement(30891). Homedepot have these PVC cement range from Light-Medium-Heavy Duty. I'm not sure which one I need.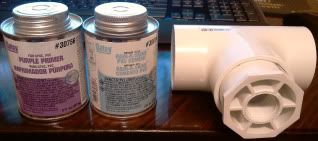 Thanks in advance!