The reason I got a flowmeter is two fold. I want to know how long to run my pump each day to turn my water over using as little power as possible. Also, the accuracy of a flowmeters for back washing is much better than pressure gauges.
I have been meaning to install a flowmeter for two years. I finally did it after I ordered 3 different types and then bought 6 together in a lot for a good deal!!! I am not a pool or a flowmeter expert (I'm in public safety) but I am a satisfied user with some extra meters that you can buy cheaper than online stores. I have installed one of them, given 3 to close friends and have a few left to sell to the TFP members if interested. PM me if interested with your email and I will answer any questions. These are in box and not used with the clamps and instructions. They sell on line for between $75 and $100 depending on the model. To make it easy I will take $35 each (plus cost to ship it) for any model I have that will fit your pipes and flow direction.

To use a flowmeter correctly you need a length of
straight
pipe that is 10 times your pipe diameter size before the meter and 4 times the diameter size after the meter for it to be really acurate but many folks I have read about cheated a little if necessary. An example to explain this would be if you have 2" pvc pipe coming out of your pump or filter you would need 20" before the meter and 8" after the meter (or 28" total) of straight pipe (no elbows). The distance should/can include pipe under ground too!!!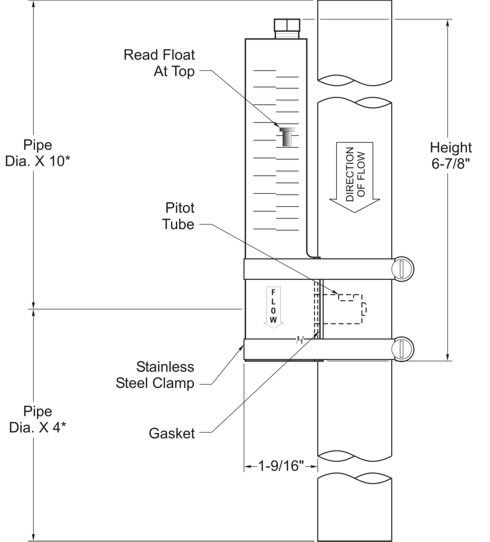 ATTENTION THE PICTURE ABOVE IS ONLY ONE EXAMPLE: The model numbers I have are
EFFECTIVE 7/2/09 -- U-30150P; U-30200P; F-30300PR;
. If you don't know exactly what you need just message me and I'll try to help tell you which one you need even if it is not one of these.
These are the best brand for pool use. Blue White F300 Series. What I can sell is 2 models for 1 1/2" pipe (horizontal flow and up flow), 2 models for 2" pipe (up flow and a low volume horizontal flow 0-70 GPM) and one horizontal for a 3" pipe. I have no down flow models.
I have included photos of mine installed and a couple of the models out of the box so you see an horizontal and
a vertical mount. Let me know if you are interested and I will keep this thread updated.