After spending most of last year interviewing with various local pool builders and doing hours and hours of research online, and getting tons of good info from TFP and it's members, I decided to self contract this pool build. I just wasn't satisfied with the PB's I met or the prices they were asking. I also didn't think it was all that difficult to hire out the subs and I'm a construction oriented person. I have a friend that is self-contracting a pool build and is about three months ahead of me. I get to see the quality of the subs work before deciding to use them or not. I'm not sure I would self contract for a very complicated pool as a first timer, but it's really just a big hole in the ground. Find the good subs and let them do what they already do for the PB's. From what I've heard repeatedly, the PB's don't spend much time on the jobsite. I spent every minute onsite asking questions and making sure things were how I wanted them.
We started the dig on Monday. I didn't think the weather and my very soggy yard would allow it in February, but we've had a nice month so far. I live in South Louisiana and was worried about the water table, but once we got past the soft 2' of topsoil, we hit good solid clay all the way down to 9'. Not a drop of water. Might get a day of light rain before we can shoot the gunite, but still scheduled for Thursday. The crew that did all the digging/rebar also helped with the plumbing rough in. I plan on finishing the plumbing myself. I'm just waiting for the electrical inspector in the morning and we'll be ready to shoot.
Basic features of the pool: Freeform IG-gunite, roughly 16'-20' wide x 38' long, 3 1/2' to 8' deep, 9" tanning ledge, several 18" benches, raised planter with three small sheer waterfalls, 4 deck jets around perimeter of deep end, 2 Colorlogic LED lights, 2 skimmers, main drains(double), 6 returns, Polaris 280 cleaner, autofill/overflow. Undecided about pool finish, but likely will be Diamondbrite Tahoe Blue. PoolPilot SC-60 SWCG, Probably Pentair Whisperflow pump (not sure on this one) and cartridge filter. 1 1/2" supply and 2" returns.
Here's a drawing I made with Google Sketchup. It's a free download and works great once you get the hang of it. You can even export your drawings into Google Earth. The pool has been modified just a little from this first drawing, but it gave me a great vision of what I would be building. I can zoom in/out from any angle and even view the pool from inside the house through my (virtual) living room windows. Everything was drawn to scale. I will also have to add the half-gazebo to my roofline and screen it all in. Probably a project for the fall.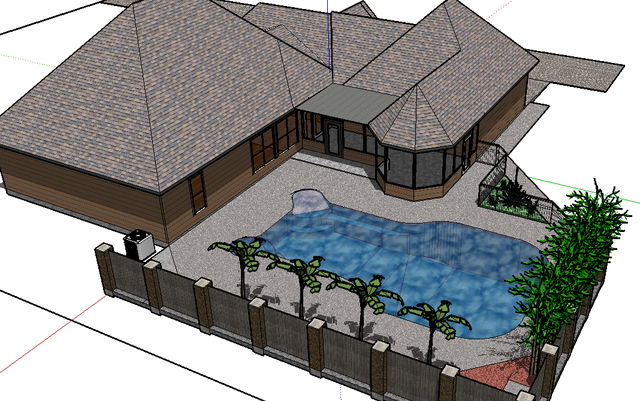 Here are 3 pics of the open hole with rebar cage and rough plumb and electrical...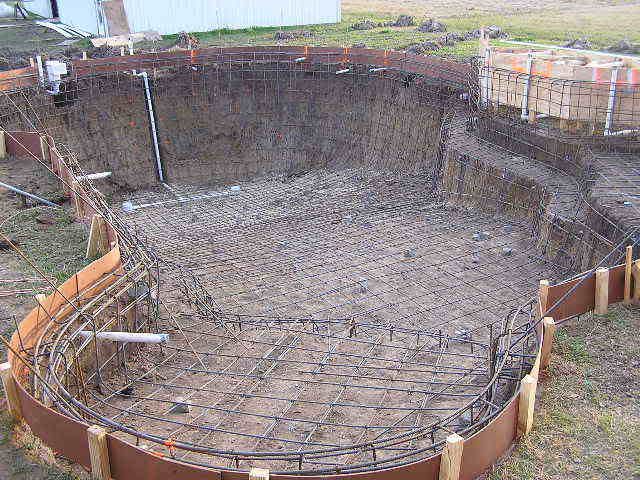 I'll keep tabs on the costs after the shoot later this week so some of you out there can compare. They're estimating 50-60 yards of gunite. It's a fairly large pool. It looks bigger in real life than it did on paper...heh. 300 sticks of 3/8" and 1/2" rebar and the other various supplies.
Thanks for all the information and advice leading up to this TFP!
Jim