I have a gate valve on my spa return that has begun to disintegrate. I'm pretty sure this is the culprit for letting air into my system. I've replaced the pump lid o-ring and lid itself (which was cracked), but continue to get air into the filter and constantly have to bleed it off. I also noticed that when I turn the pump off the spa gate valve leaks water where the shaft enters the nut.
Clearly it needs to be replaced, and I'd really like to do one of the jandy 3 way valve, but I'm not sure if that's even possible. The pool return gate valve appears to be cemented in, while the spa valve is not. By the way the standing water is from me hosing the mud and dirt off the valves after I dug them out.
I think my options are:
Try and repair the spa gate valve, although I'm having trouble getting it apart. Can't break the large nut free as it's hard to get leverage on it down in that hole.
Replace the spa gate valve with a new one by cutting it out
Put in a jandy 3 way and somehow plug or leave open the cemented in pool gate valve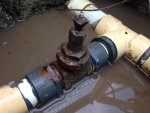 I'd appreciate any advice or suggestions.
Thanks!