Gold Supporter
Bronze Supporter
I have been around pools all my life. Found TFP last year after installing a new pool. I went back and forth to the pool store questioning myself and my Taylor 2006. Finally through the advice of many here I said "David you need to trust your own results and quit going in there." I opened this year to clear water over a month ago. My water has been heated from 82-90 after the first week.
I have added absolutely nothing but Muriatic acid to keep my PH in check with my SWG. This morning my test results are
FC 7
CC 0
PH 7.6
TA 80
CYA 70
CH 220
Borates 30-50
This is the results and what a TFP looks like
Thanks again to all who have given advice and made this forum the best on the net! Can you spot the dime on the pool floor?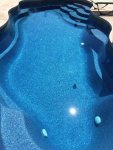 - - - Updated - - -
Little better picture...Yes Im bragging