Aug 16, 2016
187
Pool Size

10000
Surface

Plaster
Hi everyone. I have been lurking on here for a long time and reading and trying to absorb as much as I can. I have narrowed down my search to 3 builders that all proposed fairly similar designs in terms of shape and I wanted to share them with you here to see what you guys thought, what you would change or move around to make this a better build. The wife and I are more modern so wanted something geometric that fit our house.
EDIT: Changed up Thread to reflect an actual bid with equipment.
UPDATE - We got out first full bid from 1 of the 2 guys we are considering. Here is the build out and design.

UPDATE 2/9/21 - One of the last builders we had out has come up with a design we like the best. I have attached it below. We are meeting them tomorrow to discuss pricing etc and see what their bid is. I plan on sending the design to the other builders we met with and seeing what their bid would be for the same type of design. We did our own tweaks like adding contrasting colors on part of it.

UPDATE 2/11/21 - We had a face to face meeting with the PB and Designer where we got to work real time with him on changes and ideas. Towards the end the wife asked if she could see the pool symmetrical becuase she just loves simple lines. He quickly whipped up a draft and she fell in love with it more, so now we are on version number 3 of the design. I also have a list of items being used. I know I know, SWG. I'm gonna have to try and figure that out.

Some key things
The pool is now essentially 12' X 35 Feet (Interior Measurements)
Tanning ledge is shortened since there is no spa behind it now to 6' wide and the spa remains 4.5' wide so that gives us essentially 24.5 feet of swimming area in the middle.
Currently we have the depth going from 3.5 - 5.5. I'm wondering from the experts here to leave it like that, or go something like 3.5-5.5-3.5 so it's easier for both sides to hang out?
The wife got what she ultimately wanted a simple rectangular pool, water feature aligned directly with the patio as well as the glass doors and windows in our house that open out and can show everything.
Since we have to use 400 SQFT of Decking with spray deck he put in a little seating area up top as well near the spa. Not 100% on that one but I think it's a nice addition to just a little green area back there.
Currently the 3 walls on the back are 18", 12", and 6" I am thinking about raising each of them 6" to give it a little more effect. So making the feature wall with sheer descents to 24"
Here is the equipment list currently in their bid.

Equipment - ALL PENTAIR
Pentair Easy Touch 8 w/Logic - $2,410 (Asked him about Intellicenter and he said that would be about $300 more than this, if anyone can chime in on normal pricing)
Valve Actuators to have water feature work separately - $230
Pentair Cartridge Filter (420) - Included
Cleaner Pump (3/4 HP) #LA-01N - Included
PENTAIR Racer Cleaner - Included
Intelliflo VSF #011056 - $652
Whisperflo 3/4 Booster for sheer descents - 1,105
3X 18" Sheer - $1105
2X Bubblers - $300
In-Line Chlorinator - Included
Auto Fill System - $322
Pentair Racer Cleaner - Included
MicroBrite Color LED Lights - 3 Total (2 in pool, & 1 in spa) - $1649
Pentair Heating System - Included in the Spa Pricing
UPDATE 2/27/21

CONTRACT SIGNED!
So after some back and forth about pricing and adjusting a few minor things we have finally signed the contract to build our pool. Thank you for everyone for all the help. Below is the latest design after a few minor changes. We still will be making some minor adjustments because we won't start our dig until later in April due to scheduling for GUNITE etc. Below is the pretty much final design of of the pool and some items that we are still ironing out. We dropped the side walls to 6" and the feature wall stayed 1" to give it a uniformed look while the Spa stays at 12" raised.
1. Still haven't decided if we want to keep that seating area and deck near the spa or just leave it clean and some extra grass area for the kids and move the decking allocation to the side of the house to use for storage and deck boxes
2. I spoke to to them about leaving either extra pipe for a later install of SWG and possibly having them plumb everything for a SWG pool and I will pay for the Intellicenter 8 with SWG kit and leave everything chlorine for now to not worry about their waiver for their warranty and then just installed the SWG set after the one year. This way I don't have to get the SWG and power supply later.
3. We don't know what we are going to do with the color of the plaster yet, he just put in a placeholder for the included level, or if we want to actually pay extra for a higher level of color which will be $800.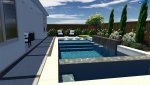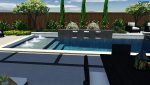 Last edited: